The Art of Mind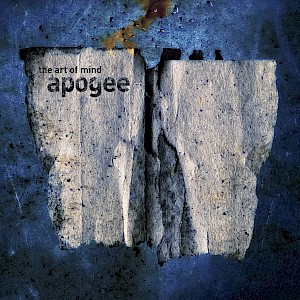 The Art of Mind (19:54)
The Games you play (9:31)
The latest APOGEE album "The Art of Mind" was released in May 2015, this time on Progressive Promotion Records (PPR-SHOP.DE).
Here are some infos about the the new Album:
Musicians:
Arne Schäfer - Lead and Backing Vocals, Electric and Acoustic Guitars, Keyboards, Fretted and Fretless Bass Guitars
Eberhard Graef - Drums and Percussion
The cover art and the layout werde created by Bernd Webler. All titles were composed and arranged by myself, except for the drum arrangements which I developed together with Ebi.
The 20 minute title track reflects many classic facets of Progressive Rock. My son Lennart created a great Video Trailer of the title Track which you can find on YouTube.
---
Reviews
Apogee - The Art of Mind (Progressive Promotion Records, 2015)
---
The Art of Mind is an impressive recording by Apogee, a project led by German artist Arne Schäfer, versus X' vocalist, guitarist and composer. On The Art of Mind, Schäfer demonstrates his admirable talent by playing practically all instruments except drums.
The first cut on The Art of Mind is a fabulous 20-minute suite titled 'The Art of Mind'. Here, Apogee delivers an outstanding epic where Peter Hamill-inspired vocals give way to memorable synth work and epic guitar progressions. While long suites are a progressive rock trademark, some artists do it better than others. Apogee does a magnificent job with the orchestrations, arrangements and transitions, delivering a notable work of symphonic progressive rock that takes you back to the classic years of the early and mid-1970s.
The rest of the tracks on The Art of Mind average 9 minutes and are equally good. Although Arne Schäfer is best known as a guitarist in versus X, his keyboard work in The Art of Mind is striking, featuring superb synth solos, rich layers of mellotron, as well as delightful organ and piano performances. Occasionally, rarely, Schäfer gets adventurous with the vocals, creating fascinating overdubs, especially on track 2, 'Inside the wheel.'
The lineup on The Art of Mind includes Arne Schäfer on lead and backing vocals, electric and acoustic guitars, keyboards and fretted and fretless bass; and Eberhard Graef on drums and percussion.
The Art of Mind is a beautifully composed album by one of the most talented multi-instrumentalists in the progressive rock scene.
(Angel Romero -
progressiverockcentral.com
)
---
Es hört sich stets zunächst ein wenig nach "Abfallverwertung" an, wenn zu lesen ist, Arne Schäfer bringe bei seinem Soloprojekt Apogee Kompositionen zur Geltung, die es bei versus X, seiner Band, "nicht geschafft" haben.
Dabei verkennt man völlig die Fähigkeiten Schäfers, der seinem komplexen RetroProg auch mit seinem nun schon achten (!) Solowerk treu bleibt. Und wer Platten von versus X kennt, der wird kaum kompositorische Unterschiede ausmachen können - kann also nichts dran sein an dem "Abfall-Gerücht".
Allenfalls schien sich in der Vergangenheit gelegentlich der Eindruck zu verfestigen, als seien die für Apogee ausgewählten Stücke in manchen Instrumentalpassagen einen Hauch weniger "ausgefeilt", eher etwas "robuster" ausgefallen, das Prädikat "gefällig" ist hingegen in Anbetracht der Komplexität von Schäfers Kompositionen von vornherein nicht statthaft.
The Art of Mind ist ein weiteres hochklassiges Zeugnis für Schäfers Fähigkeit, epische Longtracks mit großem Abwechslungsreichtum und feinen Spannungsbögen in Rhythmen und Harmonien zu kreieren und diese auch noch mit anspruchsvollen Texten zu "garnieren". Schäfer hat etwas zu sagen und das tut er auch, textlich wie musikalisch.
Agogee stand noch nie für leichte Hörkost, man muss sich schon etwas länger mit Aufbau und Struktur der Longtracks befassen und es kann gut sein, dass es drei oder vier Hördurchläufe bedarf, bis die Stücke sich einem einigermaßen erschließen. Aber die Geduld lohnt sich – es gibt viel zu entdecken und heraus zu hören.
Die Tracks auf The Art of Mind zeichnen sich durchgängig dadurch aus, dass sie packend und mit viel Energie vorgetragen werden, wobei eine gewisse Dramatik fast andauernd mitschwingt. Allen voran ist der 20-minütige Titelsong gleich zu Beginn hervor zu heben. Schäfer bedient mit Ausnahme der Drums alle Instrumente selbst. Gitarren spielen die instrumentale Hauptrolle, aber auch Keyboards haben ihre Parts – wenn auch sicher nicht so expressiv, als wäre der großartige Ekki Nahm wie bei versus X mit von der Partie. Apogee ist – wie auch versus X – unverwechselbar, und das ist in der heutigen Zeit musikalisch besonders viel wert. Arne Schäfer komponiert, spielt und singt unverwechselbaren emotionalen Prog mit klassischer Komplexität, vertrackten Rhythmen, sinfonischen Elementen und anspruchsvollen Lyrics. Und das macht er auch auf The Art of Mind wieder ausgezeichnet!
(Jürgen Wissig -
babyblaue-seiten.de
)
---