The Garden of Delights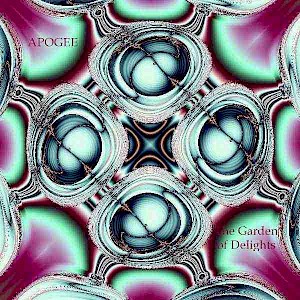 The Garden of Delights (16:24)
To keep the Balance (15:52)
The Cassini Division (2:45)
Swallow the Illusion (21:26)
The third Apogee Album "The Garden of Delights" was relased 2003 Musea Records. This is the first Apogee album which features accoustic drums, which were played by the former versus X drummer Uwe Völlmar. All other instruments and vocals were performed by myself. This album contains four longtracks and one accoustic guitar duo, which was also performed live together with former Verusus X bass player Jörg Fischer on the second guitar.
---
Reviews
Apogee or, in other words Arne Schäfer is responsible for a good share of the best contemporary response to the classic sympho prog bands from the 70's. He is able to conjure the best leanings of Genesis, early King Crimson and even maybe middle 70's Pink Floyd in a beautiful mould, combining them with the art of writing and representing his ingenious self expression. The result is, obviously, one to be discovered and treasured by the real symphonic prog lovers out there. Like so many quality albums, this may need afew listens before you start feeling it under your skin, but it will sooner or later. That, I am sure of.
(Nuno, Jan 2004,
ProGGnosis Website
)
---
When talking of originality and magic in music, I always imply that such a charisma is the main trump of any true artist of any genre. Well, I only wanted to say that Arne Schäfer is a really charismatic composer and musician. Thus, there is probably nothing special in the fact that he was never a victim of stagnation during his long musical career, and "The Garden of Delights" has become the best Apogee album to date. Don't miss it at any rate.
(Vitaly Menshikov, Jan. 2004,
ProgressoR Website
)
---
Apogee, das solo Projekt des versus X Sängers (und Multiinstrumentalisten) Arne Schäfer mit freundlicher Unterstützung von (versus X-) Drummer Uwe Völlmar, legt mit "The Graden of Delights" ein rundum solides Werk vor, ganz den alten Helden und dem alten Geist verpflichtet. Irgendwo zwischen Genesis und den frühen Marillion, mit expressivem Gesang und suggestiver Soundarchitektur entführt Schäfer alias Apogee uns in einen (Progressive-Rock-) Lustgarten.
(Jan. 2004
Schallplattenmann
)
---