Conspiracy of Fools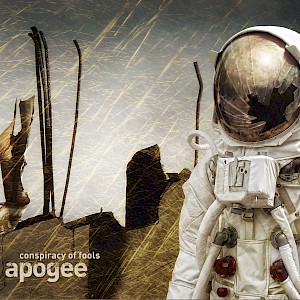 Conspiracy of Fools (13:08)
Incomprehensible Intention (14:15)
Override our Instincts (12:56)
Losing gentle Control (4:58)
Colors and Shades (11:46)
The Whispering from Outside (12:52)
Dies ist das zweite Apogee Album, welches auf Progressive Promotion Records veröffentlicht wurde. Es enthält 5 Longtracks und einen kürzeren akusisch instrumentierten Song. Ebi Graef spielte die akustischen Drums während Arne alle anderen Instrumente spielte und sang. Die abstrakte Cover Art und das Album Layout wurden von Bernd Webler geschaffen.
---
Reviews
Apogee, "Conspiracy of Fools" (Progressive Promotion Records 2018)
---
The Band and Record of the Month: APOGEE
Well, after listen and listen their respective albums from many different Prog Rock bands from various parts of the world, I can say, it was  was bery hard choose one to become the band of july's month, but among all that I heard, I choose one, which surprised me, by its musical references, by de amazing music and a gorgeous instrumental. Apogee is back. Originating from Germany, a magnificent and successful musical project led by multi-instrumentalist Arne Schaefer, also a member from the Germany band "versus X". After nine edited albums and all with great reviews on several renowned sites, Apogee or Arne Schaefer returns with his tenth work titled "Conspiracy of Fools." Arne Schaefer never hesitated to adventure themselves into the long instrumental music, always creating a perfect orchestral balance,  always well driven by symphonic progressive arrangements, adding wonderful vocal layers  evident in all the songs. Apogee offers us a travel and an adventure around the Progressive Rock School, exploring a wide variety of the symphonic musical traditions, around the same styles from bands such as "Yes", "Jethro Tull", "Genesis", "Gentle Giant", "Rush", "Van der Graaf Generator", "Peter Hammill", "King Crimson", "Manfred Mann", "Dream Theater" and "Magellan",  with well elaborated compositions, full of feeling, adding some new discoveries, combined with a high musical culture, filled of magnificent arrangements. Around the designing musical from Apogee, some instruments constantly dominate the arrangements, at first, the keyboard solos are extremely well done, and conveys a wonderful symphonic atmosphere, while lush guitar's solos, with stunning passages, complements the arrangements, where the vocals show a stunning effect, of course, a courtesy by Arne Schaefer, everything well connected, with all others instruments, in a perfect interaction. "Conspiracy of Fools" shows a range of stunning musical moments, including many symphonic and melodic elements, with amazing arrangements. The album is divided into six tracks, almost 70 minutes, from six tracks, five are long. However, all the songs are so perfect, that more time for the album would not be necessary, the six tracks and the total time are enough for you listen many times. All tracks have an excellent musical performance, but I have my favorites songs, and they are "Conspiracy of Fools", "Incomprehensible Intention", "Colors and Shades" and "The Whispering from Outside". "Conspiracy of Fools" have a intense musical depth, with an assurance of a strong name into the progressive rock around the world. In fact, you should sit down comfortably and listen and listen many times this wonderful album, you'll be amazed with the musical skills from this talented musician. The album "Conspiracy of Fools" is another one important acquisition for all the Progressive Rock's lovers around the worlds. Brilliant and fantastic, an amazing album and band, highly recommendable...
(
www.progressiverockbr.com
, July 2018)
---
TIP of the Month
automatische Übersetung:...Seine Instrumentenkontrolle von beiden Gitarren und Schlüsseln ist ausgezeichnet. Großartig sind die orchestrale Mellotron-Momente dass du, über die ganze CD verteilt, hört oft. ...
(
IO-Pages
152, Netherlands, September 2018)
---
Pour ceux qui l'ignoreraient encore, après huit disques déjà parus et ce neuvième tout juste éclos, Apogee est le projet soliste d'Arne Schaffer, (un peu) plus connu pour être le chanteur et guitariste du groupe allemand versus X. The Art Of Mind nous avait déjà largement séduit, Conspiracy Of Fools confirme et renforce cette impression positive. Il faut dire que sur les six morceaux, tous sont compris entre onze et quatorze minutes, à l'exception d'un seul titre de cinq minutes. Voilà le terrain d'action rêvé pour célébrer l'amour du rock progressif, celui d'antan, avec ces guitares incisives, ces ambiances crépusculaires brumeuses à souhait, et une voix à la Peter Hammill terriblement attachante. Une nostalgie qui jamais ne singe tel ou tel artiste, mais parvient à accrocher grâce à sa moelle mélodique, et c'est d'autant plus admirable qu'Arne Schaffer est seul aux commandes, uniquement accompagné d'Eberhard Graef à la batterie.
(
Cosmosmusic
, France,
August 2018)
---
automatische Übersetzung:
Neben den offensichtlichen Einflüssen von The Tangent auf "Conspiracy Of Fools" finden sich Stimmungen und Sounds, die Arne Schäfer aus Gruppen wie Jethro Tull, Gentle Giant und sogar - allerdings in geringerem Maße - Rush, Zappa und Van Der Graaf Generator bewusst ausgeliehen hat.
Kurz gesagt, das ist eine gute Platte, voller offensichtlicher Einflüsse des symphonischen Rock der 70er Jahre, und es ist es definitiv wert sich näher damit zu befassen, besonders wenn man die Errungenschaften der oben genannten Bands mag.
(
Arthur Chachlowski
, Polen, August 2018
)
---
Arne Schäfer versus X main man releases album number 9 with another quality collection with a production much envied by his peers,  P&PR label in Germany are doing a great job promoting this very talented artist.
(
Caerllysimusic
, UK
, 2018)
---
... In my experience, the quality of one man band albums can be variable, especially production values. It takes more than access to a studio and spare time on one's hands to produce good music. No such issues with Apogee however, Conspiracy Of Fools is an album of memorable music, superb musicianship, tight arrangements and first rate production. Thankfully there is also an absence of synthetic percussion, with drummer Ebi Graef providing solid support throughout. Mention should also go to the CD digipak with fine artwork by Bernd Webler.
... Fortunately, he excels on both keyboards and guitar, especially the latter. His versatility ranges from the melodic Steve Hackett-inspired solo during the title song to the articulate bass lines and jazzy improv of Allan Holdsworth in Incomprehensible Intention to the dexterous classical guitar picking of Losing Gentle Control. He also does a neat line in George Harrison (by way of Steve Howe) style slide guitar during the concluding The Whispering From Outside.
Schäfer's keyboard technique also evokes the usual 1970s suspects, favouring synths and string samples for the most part plus organ and piano. He weaves melodic textures including vintage Mellotron flute and strings which during Colors And Shade tips its hat to the grandeur of Genesis' Watcher Of The Skies. In contrast, the new-agey synths of Jean-Michel Jarre are evident in the intro to the aforementioned The Whispering From Outside.
(
Dutch Progressive Rock Pages
, 2018)
---
Es gibt schöne Details in jedem einzelnen Song. Wie der Klang einer Pauke in 'Override Instincts'... Gesanglich unterscheidet sich "Conspiracy of Fools" von den vorherigen Alben. Es gibt viel mehr Ebenen in den Vocals.  Dies ist eine großartige Ergänzung.
(
Rockcastle Franken
, 2018)
---
Musikalisch sind APOGEE zwar auf den Retro-Pfaden des Prog Rock innerhalb der Spur von GENESIS und YES unterwegs, doch der vereinzelt als ruhiger Singer-/Songwriter-Gesang durchgehende Vokaleinsatz spiegelt die Vorliebe für JETHRO TULL wider. Die Songs drücken hingegen schlichtweg den klassischen Neo Prog der 80er und 90er Jahre aus, vor allem hinsichtlich der Gitarrenführung. Da alle sechs Lieder, bis auf das mit Akustikgitarre herausstechende ´Losing Gentle Control´, die Zehn-Minuten-Marke souverän überschreiten, entfalten sich die Kompositionen am feinsten, wenn sie wie in ´Incomprehensible Intention´ Stufe um Stufe zielgerichtet die Atmosphäre aufbauen und sich für den Abschluss nochmals einen Höhepunkt bewahren.
(
Streetclip
, 2018)
---
"... beautiful keyboard orchestrations ..."
The first 13 minutes of this album are for the title track "Conspiracy Of Fools". It has a nice melodic instrumental opening with lush keyboards and guitar parts. During the first vocal parts the musical palette is extended with acoustic guitars and bass. You can find a lot of layers in the music (this counts for the whole album), even the vocals are sometimes multi layered. So you can enjoy fine vocal harmonies. As a keyboard lover I love all those vintage keyboards and virtual instruments. You have to listen to this album several times to discover all those layers...
In "Colors and Shades" you can find lovely guitar melodies and a second part with with the most beautiful Mellotron strings and flutes. For me this is the instrumental highlight of the album. The album ends with a track called "The Whispering From Outside". It has a mysterious keyboard opening and the multi layered vocal parts are working fine in this piece. Arne uses some classical oriented keyboard sounds and the melodic flute part is very nice. In the end the classical orchestrations are combined with a slide guitar. A worthy ending of a nice album.
(
Progvisions
, Netherlands
, 2018)
---
Five of the six track clock over 10 minutes and feature notable guitar and keyboard solos, the always mellotron orchestrations, odd meters and a mix of instrumental and vocal passages. Arne Schäfer has added extra layers of vocals in the form of harmonies. There is also spoken word which works really well.
Lineup: Arne Schäfer on lead vocals, backing vocals, electric, acoustic guitar and slide guitar, keyboards, and bass; and Ebi Graef on drums.
(
Progressive Rock Central
, Angel Romero, August 2018)
---